How to Increase Your Word of Mouth Referrals
Online automotive marketing is great, but there's still a place for word of mouth in the growth of your business. But don't assume that there is no place for online marketing in this. The following tips will help you increase your word of mouth referrals by using resources online and in your shop.
Hire friendly staff, and be personable on and offline.
Be someone your clients feel comfortable talking to, and try to relate with them. Make eye contact and listen carefully to your clients' concerns and complaints. They want to know that you care about them, not just their cars. It's important here not to neglect online communication with customers. If you have social media profiles or an shop email account, don't put off responding to messages just because someone isn't asking in person. With so many people on the web these days, it's a prime place for word of mouth too! A timely and friendly response is just as meaningful (if not more) when received online.
Make your website informative and easy to find and navigate.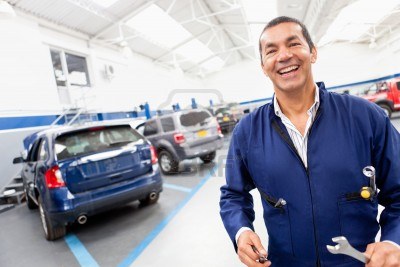 Including tips and driver education materials on the site will increase the number of hits, and the likelihood that your customers will tell their friends, family and coworkers about your shop by word of mouth. By optimizing your website for social media and being involved on sites such as Facebook, Twitter and YouTube, word of mouth will increase as well. Create e-mail newsletters that are informative, eye-catching, and reflect your clients' interests.
Pay attention to feedback.
Make sure to provide customer satisfaction surveys and reviews both in your shop and on your website, and pay attention to the feedback given. Accept constructive criticism, nothing puts somebody off more than being told their opinion is unjustified.
Pay attention to customer care.
This might seem not as important as price, services or location, but nothing creates positive word of mouth more than a positive experience. Make them feel good, and they'll do your advertising for you! Though you are caring for their car, show that their safety on the road is the most important priority in any repair transaction. Let them know that their safety is important to you, and that they're in good hands.
Go the extra mile.
Make your customers really feel valuable and appreciated. Involve them in the repair process well after the repairs have been done. You can make follow-up calls to see how customers' cars are driving following more intensive repairs and to see if everything is still working smoothly.
What increases word of mouth referrals more than anything is the owner-customer relationship. Focus on it, and let us handle your internet marketing campaign. At CarCareCONNECT, we help automotive businesses grow. Contact us now to get a free consultation.
Follow CarCareCONNECT on Facebook and Twitter!
Do you want to grow your shop?
Scan your website today for a full report that will provide insight into how you can find more customers online!
READY TO GET STARTED?
Request more information or get started with CarCareCONNECT by clicking the button below!